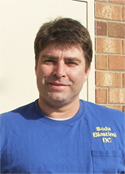 Call Rick Prendergast today for a cost efficient quote for your next media blasting project at our facility in Winston-Salem NC, or, at your location using our mobile units.
Please note—Customers often come to our shop at 2912 Nieman Industrial Drive Winston-Salem NC, unannounced to bring us items that need blasting. Unfortunately, much of the time we are not there. We are not closed; we are on location with our mobile units serving customers who need remote service.
If you need to come to the shop with your project, please call us first at (336) 682-2603 and leave a message. We will return your call as soon as possible and make an appointment to meet you at the shop at your convenience.
Thank you in advance for your understanding. We look forward to hearing from you in the near future.