Soda Blasting NC, L.L.C. owner, Rick Prendergast, has been in the painting and resurfacing business for most of his life. He is a skilled finish carpenter and fine painter as well. He started Soda Blasting, NC after a fire at the beginning of 2009 wreaked substantial damage to the house where he lived with his wife, Debbie. He was introduced to soda blasting when he had to clean the remaining wood and masonry at his fire damaged home. When he saw the exceptional results first-hand, he was convinced of the merit of the then new technology and immediately invested in several mobile units and all the related equipment.
The related equipment included the purchase of a 5,000-square foot building and up fitting the facility for his highly specialized work. The up fitting included a 650-square foot drive-in, enclosed blasting booth. Since, he has built two more blasting booths for a total of three at the professional facility located at 2912 Nieman Industrial Drive, Winston-Salem NC.
Rick's 30+ years of experience in the painting field gave him a professional insight on the different types of paints and coatings and their reactions to varying methods of blasting for paint removal and cleaning. Soda Blasting NC is now a full service blasting company offering blasting services both on site and at any location throughout North Carolina, and selected areas of South Carolina, Virginia, and Tennessee with their mobile units.
Over the years, the advent of new blasting technology allowed Rick to add a variety of blasting techniques to his list of on site and mobile services. The company now offers a selection of multimedia blasting materials that include soda, bead, shot, glass, garnet, aluminum oxide, and many other forms of abrasive media. Every job is different, and customers can depend on Rick's many years of experience to choose the appropriate media for each project.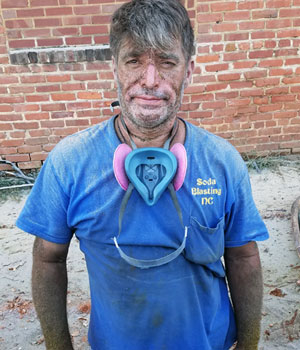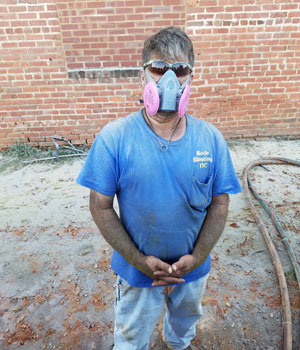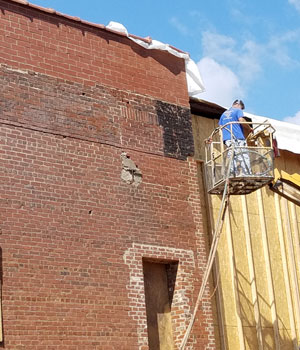 About Media Blasting
The media blasting industry has come a long way since Benjamin Chew Tilghman patented the first sandblasting process on 18 October 1870.
Also known as abrasive blasting, sandblasting is a generic term applied to the process of smoothing, shaping, and cleaning of hard surfaces by forcing solid particles across that surface at high speeds; the effect is similar to that of using sandpaper, but provides a more even finish with no problems at corners or crannies. However, sand blasting per se has not been used for years due to the health risks associated with the technique. Silicosis is a serious health hazard associated with blasting with sand that contains silica.
Consequently, the United States Occupational Safety and Health Administration (OSHA) takes a dim view of American workers inhaling silica particles. While OSHA doesn't outright ban silica sand from being used as a media in abrasive blasting operations, they've created enough safety regulations to prevent the practice of "sand" blasting today. Despite the excellent selection of modern abrasive materials now available, the generic misnomer sandblasting is still commonly used in place of media blasting to reference any pressure blasting process to clean and remove paint and other media when preparing surfaces for refinishing.